(615) 839-4480 Cell   (615) 834-7333 Business   Jimfox7@gmail.com
Member of the Music Teachers National Association, Tennessee Music Teachers Association and the Nashville Area Music Teachers Association.
NAMTA Board of Directors 2007 – 2018. Also a member of National Guild of Piano Teachers and Nashville Area Piano Teachers Guild.
Educational Experience
California State University Los Angeles BM in Music/ Piano performance
Studied piano with Dr. Milton Stern and Herb Inskip
Graduated fall 1982
Santa Rosa Community College
A.S. Computer Programming
Graduated spring 1992
Also did musical studies at Sonoma State University and San Francisco State University where he studied with Walt Oster and John Handy.
With over 25 years experience, Jim teaches both children starting at five years and adults.
Professional Musician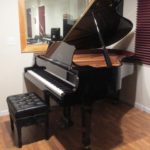 Jim Fox has worked extensively with popular and jazz groups in the last 25 years including WAR and the Drifters.
His unique style of contemporary keyboards lends itself to rock, R&B and many other styles.
Jim Fox is currently performing in the Nashville, TN area with the Jim Fox Trio.    JimFoxTrio.com