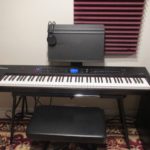 (615) 839-4480 Cell (615) 834-7333 Business. Jimfox7@gmail.com
What age do you start students at?  I will take students as young as 5 years old. This will vary since some children are not ready or interested at 5 years. As a child gets older their attention span will increase and they will learn at a faster rate.
Do I need a piano to start lessons?  It's best to have an acoustic piano in good working condition. For the beginning level of piano a keyboard or digital piano will work. It would be best for a student who is in the intermediate or advanced level to have an acoustic piano or a higher end digital piano available to practice on.
Do you give online lessons. Yes. For students who don't live in a convenient location to the Jim Fox Piano Studio online lessons are a good option. Click here to see the Online Lesson Video.
Do you teach adult students?  Yes, I teach adult students. Learning piano as an adult is a different experience but can be very rewarding.
What piano teaching method do you use?  I use Faber method most of the time but also use material from Alfred, Bastion and other methods. For students who are interested in jazz and popular I use a variety of sheet music, lead sheets and jazz method books.
What is your teaching philosophy? The teaching philosophy I use is to adapt to each students needs. Performing, reading, theory, technique and memorization are included in the lesson. Classical, jazz and popular styles of piano are taught depending on the students interests.
What days are lessons given?  Monday, Tuesday, Wednesday, Thursday and Saturday. Lessons are scheduled at a regular time usually once a week.